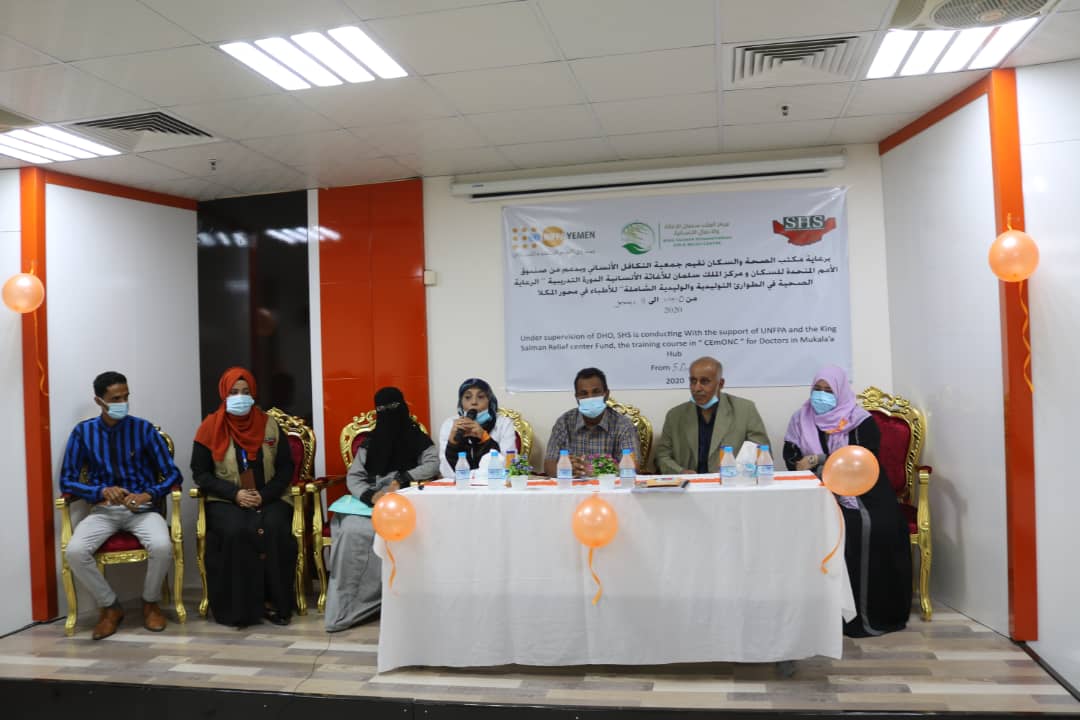 The Society for Humanitarian Solidarity SHS launched a comprehensive training program on "Basic Emergency in Obstetric and Neonatal Care" Project for doctors in the city of Mukalla – Hadramout for 15 doctors from various governorates funded UNFPA and the King Salman Center for Humanitarian Relief and under the supervise of the Health and Population Office in Hadramout.
This comes within the project of reproductive health and primary health care implemented by SHS and its interest is supporting continuous medical training programs and raising the efficiency of medical personnel in the various Yemeni governorates. In light of the current exceptional circumstances that the country is going through, and the doctors need for training and continuing medical education, to raise their efficiency in strengthening the medical service provided to patients.
At the opening of the program, Professor "Awad Bahanna", Acting Director of the Health Bureau in the governorate stressed the need for the participants in this training program to interact and come up with realistic and applicable results through which they can move forward in achieving the objectives of the project.
Emphases was the importance of the course and provision of capacity strengthening ding the trainees with an amount of important information that serves their work on the medical side and helps them in treatment protocols. In addition to developing work in obstetric departments in all targeted provincial hospitals. He expressed his thanks to the organizers, donors and supporters of this training program.
Dr. Mona Muhammad, the SHS Reproductive Health Officer explained that the program targeted the governorates of Hadramout, Shabwa, Al-Mahrah and Socotra, and included theoretical and practical application in addition to giving shifts to the participating doctors from outside the governorate in Mukalla Hospital for Motherhood and Childhood.
Reference was made to the association's participation in the 16 days campaign against violence for women and the implementation of these activities It aims at the importance of awareness-raising, equality and cooperation to reduce the phenomenon of violence against women.
The launch was also attended by Dr. Abdel-Razek Al-Shatri, Director General of the General Administration of Private Medical Facilities, Dr. Faiza Al-Amoudi, Director of Therapeutic Services at the Health Bureau in Hadramout Coastal area, and Professor Ayman Baissa, representative of the local authority in the Directorate.